Catering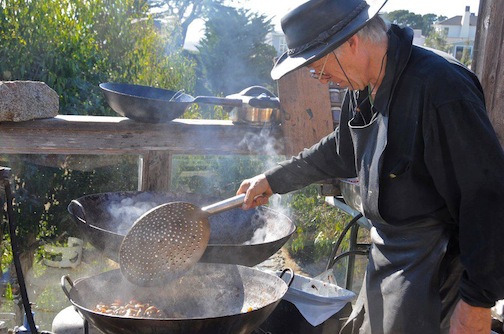 Jozseph brings 25 years of experience to the field of catering. We have served intimate dinner parties as well as delighted the throngs at Cabrillo Music Festival and Shakespeare Santa Cruz. We are qualified to perform every cuisine known, for any number of people, anywhere(with or without kitchen, power or water), including reconstructions of historical cuisines. For a taste of the dishes we have done over the years, see our extended menu. Jozseph would be glad to discuss any cuisines you have heard of or can imagine for your celebration.
Our experienced event coordinators can handle every detail of your celebration if you wish. We bring thirty years of experience in both fine dining service with flowers, linen, china and glassware as well as more casual buffet service.

We pride ourselves on making everything we serve from scratch, including relishes and condiments, baked goods, and many drinks. Let us help you make your special event truly one-of-a-kind.
If you like to find out more about how serving wonderful food for large numbers of people works, check out our home cooking classes . You and a bunch of friends can cook and talk about food with Jozseph all afternoon and night.

Check out our sample menus for ideas for culinary adventure.

Call our catering phone at (831) 332-0255 for more information.

The following calendar may not be completely up to date, but it is a good starting place to see if I am available.
Every event is a performance taking days of preparation and shopping, as well as establishment of a specially designed kitchen on site, so I very rarely do more than one event per day. And I never cancel an event because something else comes along.